Overall, I'm quite pleased with v4.2 as it appears to be more suited to Win 10 however there are still a few niggles which I would like to find solutions for.
The one I want to discuss today is the default view when opening the program. The default column size for Extension, Size, and Modified is full width however the Name column is always compressed.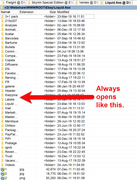 Of course, I can adjust the column width easily but it would be nice if the program could open with the Name column at full width like the other columns. Is there an option for that buried somewhere in the program please?